No doubt about it, this crisis has changed the way we live, how we communicate, how to stay calm, and for sure how we work. That's why these software companies have stepped up and slashed their software pricing or are giving away their software for the next few months to assist with the transition.
Keep reading to see some of the best deals for teams that are working remote.
What Applications Are The Best For Remote work?
Since we are all low on time and high on anxiety (you know, Coronavirus tales and what not), we will cut right to the chase.
Aside from teams flipping their face to face marketing tactics to that of a digital inbound strategy, the following applications can best maximize remote team efficiency.
1. Airtable
Airtable is a souped up Excel type software that allows team to maximize workflow and also serve as a database. Right now they are giving away their software to political humanitarian groups aiding in COVID-19 relief efforts.
2. Audible
While school is on hold and kids are home while parents are attempting to work remote, Audible is offering their audiobooks and other forms of auditory entertainment free for kids.
Capitalize on this deal, HERE.
3. Asana
Asana is one of the leading project management softwares on the internet right now. And during this COVID-19 crisis they are allowing all non-profit organizations heading up research and testing to utilize the software for free up to a year.
Fill out their form HERE.
4. BlueJeans
If cloud conferencing if necessary for your team right now, BlueJean is now free for First Responders and NGO's on the front lines.
See that deal HERE.
5. Box
Box is probably one of the software front runners that you have never heard of. But they hold their own with Dropbox, Sharepoint, and Google Drive when it comes to cloud content management and file sharing. You can now utilize their software for free for the next 90 days.
See that deal HERE.
6. Calendly
Since all business meetings will be remote for some time now, Calendly's offering comes in quite handy. With the ability for others to schedule online appointments based on your current calendar, it is a huge time saver. Right now all their video conferencing integrations and the premium versions are free for those working directly on COVID-19 aid.
Scoop up that deal HERE.
7. Dialpad
With their business based around cloud conferencing and VOIP phone systems, they can get your remote team communicating with one another and your customers, quick! Right now their Pro version is currently free, which comes with free Uberconference as well.
Get that deal HERE.
8. Dropbox
This cloud filing software needs no introduction. Right now Dropbox Business is free for 6 months for all non-profits working directly on COVID-19.
Store your iPhone scanned documents here!
See that deal HERE.
9. Google Hangouts
Google just gave access to their advanced Hangout features to all users. If you are currently using Hangouts, you have just been bumped up to first class.
Claim that offer HERE.
10. Headspace
If you haven't tried meditation yet because you were too busy, well you have just been granted all the time you need to destress.
Take advantage of the free guided meditations they just released for the COVID stent, HERE.
11. Jira
If you are in the software business and are looking for a remote bug tracking software to fit your remote team, right now Jira is free for teams under 10.
Start fixing bugs more quickly, HERE.
12. Loom
If you haven't heard of Loom, consider this one worth the price of reading this entire blog. This software allows you to record yourself and your screen giving your team extremely agile and efficient training. It works great for customers too! Right now they are unlocking the video limit for the next 30 days.
Jump on that deal, HERE.
13. Microsoft Teams
Microsoft Teams is a communication and collaboration platform that combines chat, video meetings, file storage, and app integration. There is currently no user limit on their free version.
Claim this efficiency gem, HERE.
14. Office 365
Office 365 consists of the entire Microsoft office suite and is being offered for 6-months free during this time.
Grab this offer, HERE.
15. Shopify
If you are currently looking to get into the e-commerce business or were forced to this week, Shopify is currently extending their free trial for the next 90 days.
Claim that offer, HERE.
16. Slack
The lead runner in team cloud communication is also lending a helping hand. During this time they are removing the 250 user cap on their Standard plan for the next 90 days.
Read more, HERE.
17. Vested Marketing Crm Setup
As Platinum Partners with Hubspot, Vested Marketing is able to offer Free Setup for HubSpot's Free CRM!
Whether you're currently using HubSpot or wanting to start, you are eligible for this offer by registering through Vested!
Start today here!
18. Vested Marketing Hubspot Starter Growth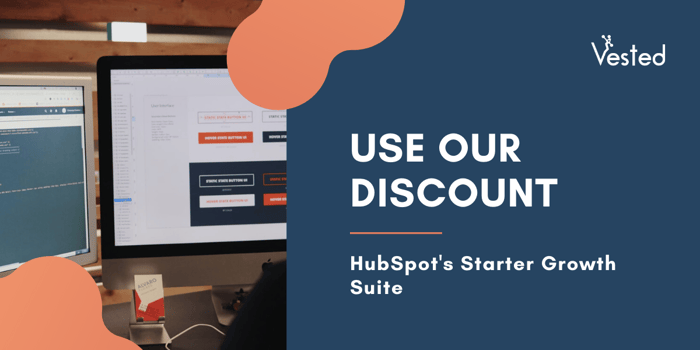 Vested Marketing is excited to be able to extend their partner discounts to other businesses looking to increase their digital footprint and online marketing efforts.
Hubspot is cutting the price of their Starter Growth Suite offering new and existing customers their bundle of marketing, sales, and services at a tremendously reduced price point. Be sure to maximize your ROI with HubSpot's platform.
Get your discount here!
19. Wrike
Wrike is another project management software that has been crushing the game for some time now. Currently, they are offering their professional level tier for free for the next 6 months.
Claim that, HERE.
20. Zoom
Another A-squad player in the video conferencing game is lending its hand to help remote teams. Right now they are removing their free 40 minute limit for video conferencing for students and teachers K-12.
Claim that educational offering, HERE.
21 - Bonus: george-BI
With george-BI reporting dashboard, you can transform your company into digestible, result driven visuals designed to improve your operational efficiency
Learn more how george-BI can make all the difference, HERE.
What's next?
Well, there you have it. All the free from A-Z.
We hope your teams find value in some of these offerings. Interested in remote safety compliance? Read our blog "How to Ensure Compliance When Working Remotely" to learn more!
Contact us today to see how we can help keep your systems running as smooth as the services that your business offers.
---
ABout CITE TEchnology
Cite Technology Solutions strives to provide the very best in IT solutions. From System Administration to Medical Imaging applications our team of integrators provides solutions.
We provide comprehensive IT solutions for small and mid-sized organizations with complex needs. Offering 24/7 Tech Support, Remote Support and Cloud Storage. We specialize in data management, VOIP, medical imaging, HL7 interfacing, and HIPAA compliance. Whether its remote access or at home, our team of IT Experts can assist.